Financial Planning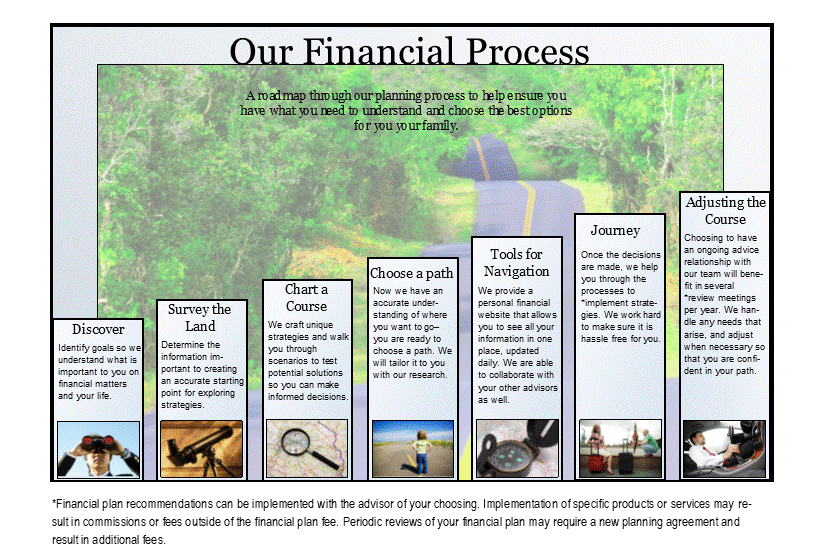 WHAT'S THE PROCESS?
In the journey of life, it makes sense to have a financial strategy to connect your resources to your goals. Each step in the planning process helps ensure you have what you need to understand and choose the best options for you. For clients who want to connect all the pieces of their big picture, we typically map out your Financial Future in the first 90 days, and provide quarterly support (at minimum) help keep things on track.
Of course everyone wants to know who their travel guide is—and any reputable travel guide makes sure they know what is important to the people making the journey! The first step we take is listening so we understand your concerns, goals, and thoughts on financial matters and your life. Equally important is determining if we are a good fit for each other, since a financial plan works best if we're in it together through the long haul. That requires a trust relationship.
By the end of our first meeting, we know where our starting point is.
SURVEY THE LAND (Second Discussion)
A good map has all the necessary information to give you confidence in your journey. We help you determine which documentation and information is important to create an accurate starting point for the process. Because we are thorough, you can expect to understand not only your current financial picture, but also your options so you can make educated decisions.
By the end of the second meeting, we have the information necessary to explore strategies. Before our next session, we will have done thorough assessments, run appropriate calculations and developed a plan draft that walks you through your options.
CHART A COURSE (Third Discussion)
As we craft a unique strategy for you, we maintain an ongoing dialogue with you. We walk you through scenarios as we test the short and long term effects of potential solutions so that you can make informed decisions about the courses available to you.
This step helps to make sure we have correctly captured and integrated your goals and priorities. We also work through much of the underwriting and check the suitability of different product tools, so the plan is based on reality. We explain the pros, cons and fees associated with each option.
By the end of this discussion, we are equipped to build recommendations.
CHOOSE A PATH (Fourth Discussion)
With the first three steps, you get an accurate understanding of where you want to go, what the outlook is, and what courses and tools are available to help you get there. You are ready to choose a path to start on.
As your financial professional, we recommend solutions that are designed to help you achieve your goals. Based on our discussions, we leverage our research, experience and resources so these solutions are tailored to you. Once you've made your decisions about which priorities and tools you want to use, we set up an Action Plan to make the journey as smooth and effective as possible.
By the end of this discussion, you know how you are going to take action.
MAP AND COMPASS (Tools to Navigate By)
It is important to easily access information as you travel your chosen path. Our clients feel empowered by the secure, personal financial website we provide, which allows you to see all your information in once place, updated daily. This tool allows you to see everything related to your financial plan and assets, important documents you store in your online vault, and a variety of other information that you choose to include—even information about your rewards programs (airline miles, credit cards, etc.)! We are able to collaborate with your other advisors, like your CPA or attorney, easily using this system in real time.
Of course once the decisions are made, we help you through the processes to implement those strategies. We work hard to make your Action Plan as hassle-free as possible, preparing the paperwork for you, making sure it is in good order, moving it through the process correctly and funding it in a timely manner. Although most clients choose to walk the path we charted together with us, there is no obligation to implement with us.
ADJUSTING THE COURSE (Regular Reviews)
The power of a planned path is the ability to know where you are and make adjustments when it makes sense. Clients who choose to have an ongoing advice relationship with our team benefit from several meetings per year to review. We handle any service needs that arise, monitor accounts, measure success and make necessary adjustments. You can be confident that our total focus is on helping you reach your desired destination.
*Financial plan recommendations can be implemented with the advisor of your choosing. Implementation of specific products or services may result in commissions or fees outside of the financial plan fee. Periodic reviews of your financial plan may require a new planning agreement and result in additional fees.